Welcome to Ages of Despair, a medieval fantasy MUD (Multi-User Dungeon). As you journey through this site you will be able to learn a bit about AoD and the shape and design of the world we are creating. AoD has been in development since early 1998. We have strived to create a unique medieval-fantasy world powered by the imaginations of our experienced administration and talented coders. Since then, the MUD has taken on a life of its own, and our wizards and players continue to shape this enchanting world that we call home.

AoD provides an enjoyable atmosphere to game in where you can live out your most imaginative fantasies. A world where fantasy becomes reality and your dreams and desires are brought to life. Our world is constantly growing, player ideas are always important to us and highly appreciated.

We have an extended help file system with over 100 detailed up to date help files to assist you as you travel through the world. A newbie chat channel for those who are new to mudding, a large detailed new player walk-through has been added to give new players an advanced understanding of the game and how to get started. In addition we have plenty of friendly wizards willing to answer your questions.

If you are new to mudding, or perhaps just interested in seeing what our world is like, a new page with screenshots of the game is currently being developed as an addition to the new player help section.

Come this way to get started on your adventure and learn about the beautifully detailed fantasy filled world we have created. We believe that AoD will be a place that you will call home. Connect to us now at telnet://mud.agesofdespair.net:5000 and let the adventure begin!

---
Help Support Ages of Despair
By Shopping: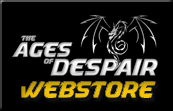 By Donating: